"If your pictures aren't good enough, you're not close enough."
– Robert Capa
Billions of people are shopping online for household, fashion, work, fun, food, in short, everything, and anything. Do you know what is one of the key elements for the purchase decision? The product's photographs. More than text, high-definition product photographs bridge the gap between potential sales and actual sales.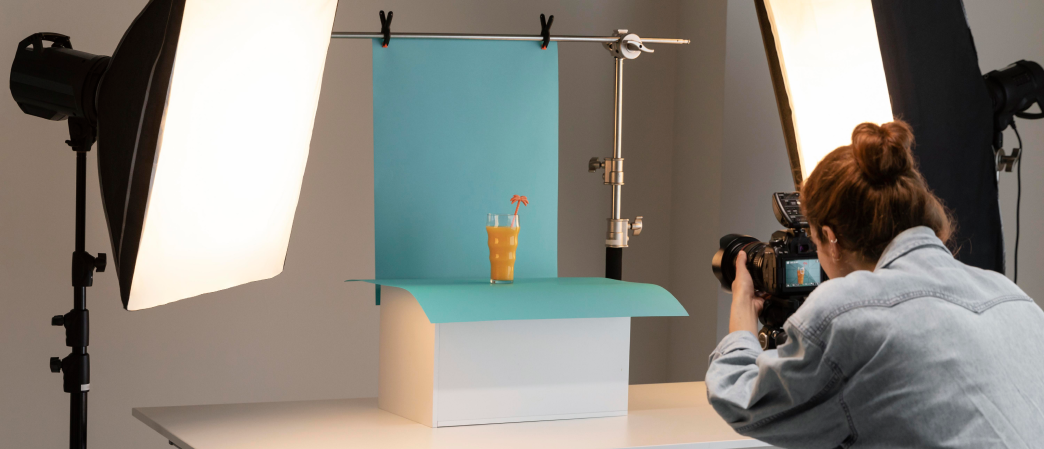 Stats About Visual Appearance:
93% of consumers consider visual appearance as a critical factor in making a purchase decision.
According to bigcommerce, 78% of people buy products after seeing images.
Today we will talk about how professional product photography can open new gates of opportunities and what you need to keep in mind when trying photography for yourself.
Importance of Professional Product Photography for eCommerce Business:
1. Build Trust
Here imagine you have two options to buy on an e-commerce website. On what you will click, will you click on a product image that has small, grainy, or very low resolution? Option 2 is high-definition images with clear, bright light. The majority of you will go with option 2, as a clear image builds trust, and they can clearly see what they will be getting. They know that you will not hide anything under low-quality photos.
2. Reveal Product Quality
There are plenty of products available, in fact, so many of the same products. Even if your products fulfill the basic requirements, they should be able to convince users to add them to the cart and complete the transaction. The good news is that the product photographs can do it for you, and it even shows how good it will look on customers(here, we are talking about clothes). In this case, it is absolutely safe to say that a picture can speak a thousand words.
3. Quick Product Information
Undoubtedly, product description tells everything about the product, but it is also true that sometimes it is difficult to imagine the actual product with just text. Images help to understand everything that might get missed in the textual description. A clear and quality image helps to give quick information about what the product is actually about. Customers can actually see the color, dimension, style, shape, patterns, and other physical features of products with just a glance. Information plus visuals help to understand the product easily.
4. Professional Presentation
Your e-commerce website is the storefront for your business. You don't have to officially greet customers. The visuals on the website allow visitors to form opinions about your company. Professional photographs indicate that you take your business seriously.
5. Boost SEO Scope
Having a lot of pictures on an eCommerce website allows more search engine optimization (SEO) opportunities. You can incorporate keywords in image file names. Adding certain details about the image boost website's SEO. It is the key through which you can get better ranking in search results.
Types of Product Photography
Individual Shots
Individual shots are one of the most common in product photography. Here only one object is in the frame. It is generally used for banner images, product catalogs, and product pages to showcase individual products. It is used to highlight the entire collection. Here the object is centered, focused, and all details can be seen. One of the beautiful examples of individual shots is Samsung smart watches.
Group Shots
Group shots are the best idea if you wish to capture a heroic image of the product. It is generally used for website banners, social media, and store display purposes. Here customers can check the store's range availability to weigh their options. It may seem very easy, but it takes time and creative angles to arrange items flatteringly.
Flat-Lays
Flat-lays are a kind of lifestyle product photography. You can find this photograph in eCommerce and social media. In this, the picture is shot above to give a bird's eye view of carefully arranged objects. It is one of the best ways to narrate the story around the objects. The most popular format in flat-lays is square.
Macro Photography
Macro photography allows you to capture objects from a very close-up angle; it helps to capture details that other product photography won't be able to. Otherwise goes unnoticed; it allows to capture even the tiniest of intricate feature details. When it comes to driving sales for e-commerce business, developing a brand, or standing apart from the crowd, macro photography is the right choice.
Mannequin Photos
For clothing brands, a mannequin shot is a must to give a three-dimensional look to your clothing range and also help customers see how they'd look when worn. It is one of the valuable tools to boost sales, especially when your business is entirely online.
Lifestyle Product Photography
If you are looking for a photography option for attention-grabbing and visually satisfying photographs for your online store, lifestyle product photography should be your choice. It captures the real-life scenario where people use a product. In this, a very close or real location is used in the shoot. It is a very crucial photograph; let professionals do the task and hire a photography service in Ahmedabad.
Behind the Scene
Make a Moodboard
The first step is to create a mood board to clear your mind about what exactly you want to capture. Here you can put together certain pictures and make up your mind about how you wish the final image to be.
Make a Decision
Here you need to make a list of photos you wish to incorporate in each product's photograph. Meaning what exact angle you wish to capture, some fun you wish to input, and another context with photographs.
Set the Scene
Now choose the right lighting, and it can be achieved by accessing natural light at that time of the day; you can set the scene maybe near a big window with the background paper and other props required in the shoot. You can use tape to place the things in the right position.
Take and Retake
Yay! Now is the action time with the camera. It takes several takes and retakes to get precisely the right shots. Be bold and take multiple shots, and don't limit yourself when it comes to doing experiments. Ensure to avoid all distractions or shadows that you might not be able to crop later. Make sure to capture all shots that have been planned.
Edits and Selections
Once the shoot is done, the next important task is selecting the picture and narrowing down the list of pictures that have worked with the plan. After sorting out all the pictures, the next thing is editing photographs.
Web Optimized Pictures
Before posting pictures anywhere online, it is vital to optimizing pictures in terms of resolutions and aspect ratio for different platforms. Here you need to ensure that photos are not blurry, and at the same time, they should be small in size, so it becomes easy to upload them.
Wrapping Up!
That was all about product photography. To create creative and consistent photography for your platform, we suggest hiring professional photography services in Ahmedabad for flawless results. Pixenite is a one-stop destination for all photography and 3D service needs. We got experts for you who do exceptional work at an affordable package. For all your queries and curiosity, call us right away.